Red Brass Nipple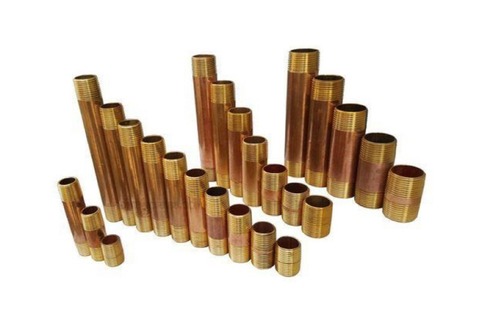 Red Brass Nipple
Product Description
Red Brass Nipple
Red Brass Nipple made of red brass has a high level of corrosion and rust resistance. The water passing through your pipes in many commercial applications may have a higher pressure than in residential applications. This could potentially have a significantly higher volume or bulk. This is very effective and safe to use. Red Brass Nipple is composed of copper and zinc in the majority. In order to generate a robust, useful alloy, the composition is typically 85 percent copper and 15 percent zinc.
We are a leading and well recognized names in the field of offering quality finished range of Lead Free Brass Pipe / Tube /Nipple that are as per ASTM, BS, EN, ISO, JIS. Also Known as LEAD FREE BRASS 90/10, 85/15, 80/20.Red Brass Nipples*All available sizes are in Inch, We accept custom size manufacturing.
RED BRASS 85/15 C23000

Equivalent Specifications

EN

CuZn15

DIN

CW502L

UNS

C23000

BS

CZ102
C23000 brass is the most durable of all metals for commercial water pipe in the practical price range. Excellent for itsresistance to dezincification and season cracking for which the high copper brasses are known. Moderate strength andgood retention of spring properties. Specified for underground service lines since it offers greatest corrosion resistance toall types of portable waters. Applications for C23000 brass include costume jewelry, fire hose couplings, zippers, andcondenser and heat exchanger tubes. Popular as an outdoor metal and has found for itself a very important place inmodern architecture. also known as Nordic Brass. The EN equivalent for this alloy is CuZn15.TYPICAL USES:Architecture: etching parts, trim, weather strip, Builders Hardware: kick plates, Consumer: badges, coinage, compacts,costume jewelry, dials, fire extinguisher cases, lipstick containers, medallions, nameplates, plaques, rouge boxes,tokens, zippers, Electrical: conduit, rotor bars (AC motors), screw shells, sockets Fasteners: eyelets, fasteners, Industrial:condenser tubes, fire extinguishers, flexible metal hose, heat exchanger shells, heat exchangers, pickling crates, pumpcylinder liners, radiator cores, tags, tubing for heat exchangers, tubing for instrumentation, Other fire hose couplings

Plumbing fittings, j-bends, pipe, pipe nipples, pipe service lines, pump lines, service lines, traps........