King Pin Bush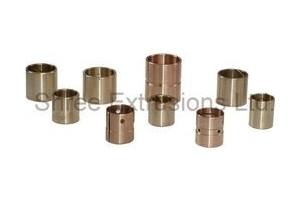 King Pin Bush
Product Description
King Pin Bush
Shree Extrusions Ltd. A Copper & Copper based Alloys Manufacturing since 1989, Our Plant is located in Jamnagar Gujarat, India. At Shree Extrusions Ltd. we Extrude Solid Rods & Wire Tubes / Hollows, /Pipes, Flat/ Section/ Profile and Finish Components of Brass, Copper & Bronze as per Indian & International Standards and also as per Customer requirement.

We seek your attention for our Rod, Hollows and Tubes of Copper & Copper Alloy for end use detailed below;

High Tensile Brass
Leaded Brass
Silicon Brass
Manganese Bronze
Aluminum Bronze

Each of the above mentioned alloy is selected as per King Pin Bush Assembly Application.
We wish to draw your attention to our extruded tubes & hollows being used as an alternate to Casted / Sintered bush.

Salient Features:
Higher Density ( helping in removing porosity and production issues related to porosity )

Better Hardness

Easy Machinability & Lower Process loss
We solicit your valued inquiry for Extruded Brass Hollows / Tubes.
Request : Callback

Additional Information:
Minimum Order Quantity: 1000 Piece