Grounding Copper Bonded Rod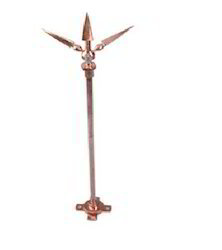 Grounding Copper Bonded Rod
Product Description
Grounding Copper Bonded Rod
Shree Extrusions Ltd copper bonded earth rod are made from low carbon steel of grade BS 970 or AISI 1018 with a high tensile strength of atleast 600 N/mm2. Low carbon steel core are molecularly bonded with 99.9% pure electrolytic copper.

Salient Features

Perfectly bonded rod will lost longer, drive easier and will not crack. Corrosion resistance while providing tee lowest resistance to ground.
Threads are rolled by roll threading process, which ensures that an when copper covers is maintained, wen at the root of the thread. Roll thread gives greater strength than cut thread.
Thread rolling process raises the surface of the rod, so teat Thread dia. (T) is greater than Shank dia. (S).
Additional Information:
Minimum Order Quantity: 1000 Kilogram