Bronze Foundation Bolts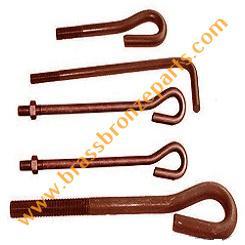 Bronze Foundation Bolts
Product Description
With the aid of our sound distribution channel, we are capable to deliver these Bronze Metric Bolts across the globe on time. The provided bolts are widely used for fastening various automotive, marine and other industrial equipment in a secure manner. These bolts are manufactured by our skilled professionals using supreme quality bronze. Besides, the offered Bronze Metric Bolts can be purchased from us in numerous dimensions in bulk.

Features:

Easy to tighten
Sturdy design
Excellent threading
Accurate dimension
Materials and Standards

| | |
| --- | --- |
| Tin Bronze | ASTM B30 C92600, C92600, PB102, BS1400(Pb1),BS 1400 GI |
| Aluminum Bronze | ASTM B 111 C60800/ASME SB 111 C 60800 /EN 12451 CuAL5AS / CW200 / C61400 / C95400 / C61800 / C62300 / C62400 / C62500 / C95200 / C95900 / CuAL11Ni5Fe5, BS1400-AB1 & AB2, BS2874 CA104 & Ca103 / CW300G/ CW303G |
| Aluminum Silicon Bronze | ASTM B 150 C 64200 / SAE J 463 C 64200 / C63600 / C65620/ C65100 / C65300 / C65500/ C65610 / CW301G/ CW115C / CW116C |
| Leaded Commercial Bronze | ASTM B 140 C31400 |
| Phosphorous Bronze | ASTM B103 C 51000/ SAE J 463 C51000/ BS2874 PB 102 |
| Manganese Bronze | C67300/ C67500/ C66800/ C67400/ C67600/ C86200/ C67000/ CW704R |
| Nickel Aluminum Bronze | C63000/ C63020/ C63200/ C95510/ C95500/ C95520/ CuAL10Ni5Fe4/ CW307G/ C95800/ C96900 IS 10569: 1983 Grade 1,2&3 / CW308G |
| Silicon Bronze | C65500 ASTM B96/ ASTM B98/ ASME SB96/ ASME SB98 |
Feature:

Resistant to corrosion (Also resists salt water corrosion), Thus highly used in Coastal (Marine) applications.
Good to use in heavy load & High pressure application.
Melting point of bronze is higher in comparison to other metals.
Hardness & Strength is a quality of bronze alloys.
Bronze is Non-Sparking (Spark Free) material.
Size:

Bolts

Metric

M2, M3, M4, M5, M6, M7, M8, M9, M10, M11, M12, M13, M14, M15, M16, M17, M18, M19, M20, M21, M22, M23, M24, M25, M26, M27, M28, M29, M30, M31, M32, M33, M34, M35, M36, M37, M38, M39, M40, M41, M42, M43, M44, M45, M46, M47, M48 & As Per Customer Specification

Length As Per Customer Requirement

Inch

1/4" to 2" & As Per Customer Specification

Length As Per Customer Requirement
Finishing: Zinc plating, Nickel plating, Chrome plating, Polishing, Sand blasting, Anodizing.

Packing: High quality export standard packing provided in form of Wood case, Carton, Wooden Pallets and as per requirements of customer.

Delivery Time: In given time.