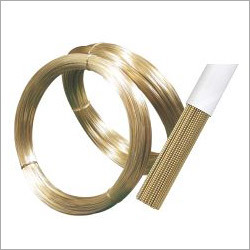 Product Description
We have uniquely positioned ourselves as the leading manufacturer, exporter and supplier of a distinct array of Brass Brazing Wires & Rods. The offered wire is widely used in automobile, engineering, electronics and construction industries. These products are manufactured by our experts in compliance with international quality standards using high quality brass and latest machinery. Our Brass Brazing Wires & Rods are acknowledged for high tensile strength, corrosion resistant finish, durability and flexibility.
Features:
High strength
Durable
Resistivity against thermal conductivity
Non corrosive
Copper alloys are base metal alloys used for high temperature brazing of various steels or tungsten carbide. Brass Brazing is Cost effective alternative to silver brazing alloys wherein high joint strength can be readily achieved. Some alloys also offer excellent corrosion resistance with thermal and electrical conductivity. We offer these alloys in standard composition suitable for specific application. We offer Silicon Brass Brazing and Silicon Manganese Brass Brazing.
Capabilities
Production Range : Rods/ Wires / Hex / Tubes/ Square / Flat / Profiles / Hollows

Tubes

6.35 mm to 110 mm

Round Wires

1 mm to 11 mm

Round Rods

1.2 mm to 250 mm

Hex

5 mm to 60 mm

Square

4 mm to 60 mm

Flat

5 mm Min Thickness and Max Width 120 mm

Profile

As per Customer Drawing

Hollow Rods

Min Bore Size 20 mm and Max OD 130 mm
Leaded Brasses
Wires/Rods/Solids and Hollows/Hex/Rectangles/square/ Flat/Profiles

Free Cutting Brass
Forging Brass
High Tensile Brass
Riveting Brass
Nickel Silver

ASTM B 455/ B 16 C 38500 / C36000/ BS 2874 CZ-121Pb3, Cz124 Grade I/II/III/ J1S 3250 H C3604, C3602 IS-319-I & II. BS-249, CW607N, CW603N, CW614N
ASTM B 124 C37700 / BS 2874 CZ 122/ IS 3488 Forging Brass/ CW608N
IS 320 HT1 of HT2 HT8-3/ BS 2874 CZ114 & CZ115 / JIS 3250H C6782 or C6873. BS1001 -Type I&II. IS 8737-II
IS 4170 CuZn40 BS 2874 Cz109/ JIS 3250H C2800/ ASTM B171 C36500/ IS 4413 CuZn37/ BS 2872 CZ 108. Cz131/CW509L/ CW610L
IS 10757 Nickel Silver/ BS 2874 Ns101 / ASTM 79830/ NM3/ Nm6 / CW402J

Lead Free Brasses
Ingots/Biliets/finished Tubes/Writs/ Rods Solids and Hollows/Hex/Rectangles/Square/Flat/Profiles

70130 Brass
65/35 Brass
63/37 Brass
60/40 Brass
Bed Brass
Naval Brass
DZR I ECO Brass

ASTM B 135 C26000/ BS 2871 Part 3 CZ- 126?EN 12451 CuZn3oAs/ NFA 51 102 CuZn30
JIS H 3300 C2600 / As 1572 26130 /CW505L
ASTM B 135 C27000/CuZn35/ BS Cz107/ CW507L
ASTM 8 135 C27000 / JIS H 33000 C 2700/ ISO 1637 CuZn37. ASTM C27200. C27400. IS4413 grade I & ll. CW508L/ CW705R
IS 4170/ 67 ASTM C36500. CZ109.JIS3250H C-2800 / CW610N
ASTM B 135 C 23000/ BS 2870 CZ 102 / JIS H3300 C 2300 ASTM C69400, C69430! CW502L
13291 Grade I 8- 11/85 2874 C2112/JIS 3250 C4622/ASTM C48200. C48500. C46200, C46400/CW711R / CW714R
C274507 C35200 / C36300 / C36500/CW610L

Bronze
Wires/Rods Solids and Hollows/Hex/Rectangles/square/flat/Profiles

Tin Bronze
Aluminum Bronze
Alu. Silicon Bronze
Lead Comm. Bronze
Phosphorous Bronze
Manganese Bronze
Nickel Alu. Bronze

ASTM B30 C92600, C92600, PB102, BS1400 (PB1), BS 1400 GI
ASTM B 111 C60800 / ASME SB 111 C 60800 / EN 12541 CuAI5As/ CW200G/ C61400/ C95400/ 61800/C62300/C62400/C62500/C95200/C95900/ Cuai11n5fe5, BS1400-AB1 & AB2, BS2874 CA104 & Ca103 / CW300GCW303G
ASTM B 150 C 64200 / SAE K 463 C 64200 / C63600 / C65620 /C65100/ C65300/ C65500/C65610 /CW301G CW115C/CW116C
ASTM B 140 C31400
ASTM B 103 C5100/SAE J 463 C51000/BS2874 PB 102
C67300/C67500/C66800/C67400/C67600/C86200/C67000/CW704R
C63000/C63020/C63200/C95510/C95510/C95500/C95520/CuAi10Ni5Fe4/CW307G/C95800/C96900
IS 10569 : 1983 Grade I, II & III / CW308G

Copper
Ingots/Biliets /Finished Tubes/Finned/ Tubes/U-Bend Tube/Rods/Hex/Square/Flats/Profile


DHP Copper
DLP Copper
66/ ETP Copper
Other Copper

ASTM B 68 C12200 / ASTM B 75 DLP C12000/ BS 2871 PART 2 101/ BS 2871 Part 3 C 106 / EN 12451 DHP / JIS H3300 C 1220
ASTM B 68 C12200 / ASTM B 75 DLP C12000/ BS 2871 PART 2 101/ BS 2871 Part 3 C 106 / EN 12451 DHP / JIS H3300 C 1220
ASTM B 68 C12200 / ASTM B 75 DLP C12000/ BS 2871 PART 2 101/ BS 2871 Part 3 C 106 / EN 12451 DHP / JIS H3300 C 1220/CW023A/ CW004A
Beryllium & Chromium Copper, Cadmium Copper, Sulphur Copper, Arsenic Copper, Tellurium Copper, Zirconium Copper, Commercial Copper / CW105C/CW106C/CW114C/CW120C

Cupro Nickel
Ingots/Bilitets/Finished Tubes/ Finned Tubes/U-Bend Tubes/Wires/Rods/Hex/Rectangles/Square/Flats/Profiles

70/30 Copper Nickel
90110 Copper Nickel
95/5 Copper Nickel
CuNi 2.2
CuNi 6
CuNi 11




ASTM B 111 C71500 / ASME SB 111 C71500/ BS 2871 part 3 CN 107 / EN 12451 CuNi3Fe1Mn / CW354H NFA 51 102 CuNi30Fe1Mn/ JIS H 3300 C7150
ASTM B 111 C70600 / ASME SB 111 C 70600 / BS 2871 part 3 CN 102/EN 12451 CuNi10 Fe1Mn NFA51 102 cUnI 10 Fe Mn JIS H 3300 C7060 / CW352H
ASTM b 111 C 70400 / ASME SB 111 C70400/ BS 2870 CN 101 / ISO 1635 Cuni5Fe Mn / JIS C2532 / GCN10
ASTM C70200
ASTM C70500
ASTM C70800

Brass For Condensers & Heart exchangers
Ingot /Biliets/finished Tubes/finned Tubes/U-Bend Tubes/Rods/Hex/Square/Flats

Admiralty Brass
Aluminum Brass
Aluminum Bronze

ASTM B 111 C44300/ASME SB C44300/BS2871 Part 3 CZ 111 / EN 12451 CuZn28 Sn 1As/JIS 3300 C 4430 / CW706R
ASTM B 111 C68700 ASME SB 111 C68700/ BS 2871 Part 3 CZ-110/ EN 12451 CuZn20 AL2As/NFA 51 102 CuZn22AL2 / JIS h 3300 C6870 / CW702R
ASTM B 111 C 60800 / ASME SB 111 C60800 / EN 12451 Cu AI5As/ CW200G/CW300G