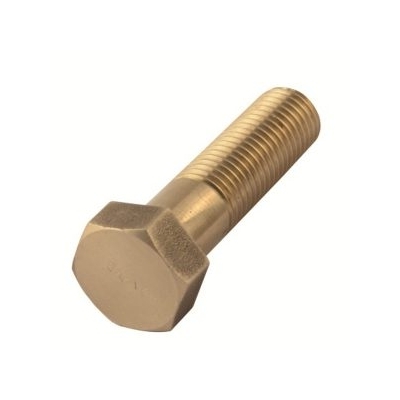 Product Description
With an aim of being best in industry, we have been able to manufacture and supply quality endorsed Aluminium Bronze Bolts to our customers. These bolts have amazing corrosion resistance and they can be further tempered & annealed to enhance their tensile strength. They are hardened by a combination of solid solutions strengthening, cold work and iron phase. Apart from this, Aluminium Bronze Bolts are fabricated with use of latest tools and technology to transmit excellent properties to it. Also, they are perfect blend of high durability and reliability and therefore are highly preferred over other similar products.

We are leading manufacturers and suppliers of Aluminum Bronze Bolts and Nut to various industries like Pump, Valves, Shipbuilding, Marine and Defense projects.
We supply Nickel Aluminum Bronze, Aluminum Bronze in various grades and specification as per client's requirement.
Aluminum Bronze AB2 BS 1400
Aluminum Bronze CA 104 BS 2874
NES 833 part II (Naval Engineering Standard Part Two)
Aluminum Bronze C63000
Aluminum Bronze C63200